To me, Longines has always been a brand associated with affordable luxury. They sit comfortably in the 'entry-level' price range of luxury watches where according to their CEO, Walter Von Kanel, they make a killing selling their three-hand, calendar watches. So why then would they stray so far from this philosophy and make a collection of eight pocket watches, with massive six-figure price tags? To answer that question, we have to first look at the brand's association with horses, more precisely its relationship with the equestrian sports.
The first example of this dates back to 1878 when Longines produced their first pocket chronograph that had an engraving of a jockey and his mount. This appealed to horse enthusiasts around the world and according to them, three years later the pocket watches could be found on American racecourses. More importantly, however, was the fact that during the time Longines was producing reliable and accurate pocket watch chronographs; and these became invaluable to the timing of horse races. It wasn't until 1912 that the company partnered an international show jumping competition, and the rest, as they say, is history.
Today Longines still maintains a strong partnership with various equestrian sports organisations including but not limited to the International Federation of Horseracing Authorities (IFHA) and the Fédération Equestre Internationale (FEI). Thus to answer the question of why make a series of pocket watches with such opulence: how else should you celebrate something that has been a part of the brand for more than 140 years.
Having spent some time handling these pocket watches rather carefully, I can surmise that the workmanship on these pieces is amazing. All eight variants available in Malaysia were made out of 18ct rose gold which probably is where the price comes from. On top of that, you have seriously intricate engravings on most of the case backs or hinged covers showcasing quite the dazzling array of craftsmanship. Strangely, where some of the hinged covers came on the back of the pocket watch, we did not notice any open case backs. Sure, clear case backs were not common to practise back in the day, but it would have been nice to be able to see the movements when the urge arose. As for the dials, they are all made with white lacquer.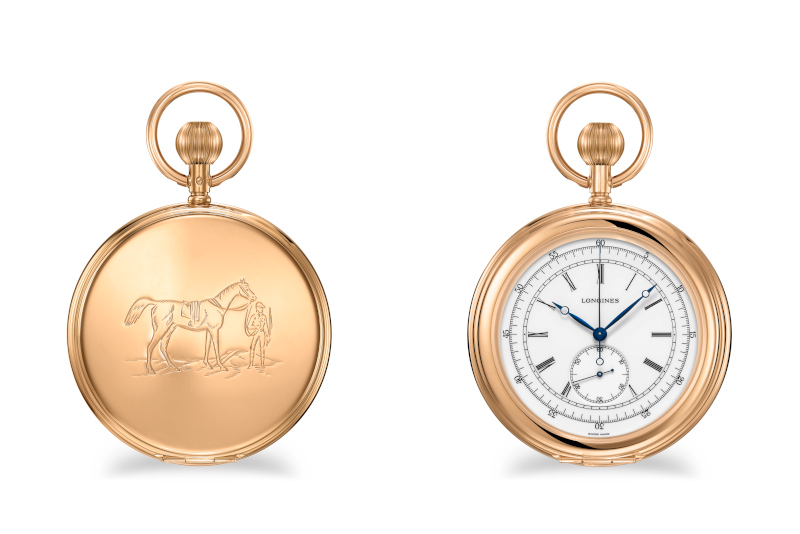 Jockey 1878
The flagship pocket watch in the collection has to be this Jockey 1878 that was directly inspired by the very same piece that kickstarted Longines fascination with the world of equestrian sports. The movement is a hand-wound calibre with a column-wheel chronograph mechanism created exclusively for Longines. And on the back, you will find a horse and its jockey that closely resemble that of the original.
Sweet Horse 1881
Designed as a more feminine piece, the watch features two hinged covers, both adorned with engravings and features a manually wound mechanical movement.
Roots and Wings 1910
Inspired by a model from 1910, this watch features the engraving of a winged woman and a horse on one side and a grand eagle on the other, encouraging the owner of said piece to travel and discover the world.
Gentleman Farmer 1910
This engraving of a gentleman on his horse is the perfect depiction of a distinguished elegance specific to equestrian sports.
Racing Horses 1911
The cover of the 18-carat rose gold watch is engraved with the heads of three horses in the heat of a race, symbolising the movement and energy of the sport.
Horses Trio 1911
As the name suggests, this pocket watch was inspired by a similar model made in 1911, and just one year after that, Longines steps into the world of show jumping for the very first time.
Farm House 1912
Showcasing the horse in environments outside of sports, this 18-carat rose gold case depicts a farmhouse in a bucolic country landscape traversed by a rider on his horse.
Sport 1929
Finally, this pocket watch depicts two jockeys and their horses in the heat of a race, a scene that Longines has been familiar with for the last 141 years.
Each of these eight references in the Longines Equestrian Pocket Watch collection is limited to only 20 pieces worldwide (with only a very small number here in Malaysia) and will cost at prices starting from MYR129,310 to MYR208,570.