When it comes to Swiss Made watches at an affordable, entry-level price, I feel like Mido is often overlooked. People think of brands like Longines, Tissot and Hamilton but, Mido is right up there in the same category, offering great value for money. Case in point is their latest extension to the Mido Ocean Star range where they add on a GMT and a Chronograph that come with a pretty attractive price tag.
The Ocean Star collection is Mido's answer to the market demand for well-built sports watches. This line of robust dive watches continues the Mido tradition of taking design elements from architecture, this time inspired by the Europa Point Lighthouse that has been watching over the Gibraltar Strait since 1841. Within this collection, they have a 200m dive watch, a professional 600m dive watch and also, one that was inspired by a vintage 1960s piece. The new Ocean Star GMT and Chronograph adds two new functions to this collection giving fans of the design more options to suit their needs.
Mido Ocean Star GMT
With the craze for GMT watches steadily picking up since last year, this Mido option couldn't have come at a better time. Especially considering it is priced starting from MYR 4,670 with a fabric strap.
In terms of design, we see all the Ocean Star elements present, including the hollowed-out hands which have been extended to the GMT pointer as well. Unlike most GMT options that decide to put the 24h scale on the bezel, Mido instead puts in on a static chapter ring on the dial while the ceramic bezel keeps the traditional minutes of a dive watch. This makes the stainless-steel case a tad larger at 44mm with a case height of 13.28mm. The movement is an Automatic Mido Caliber 80 which has 80 hours of power reserve.
The Mido Ocean Star GMT is available in a blue dial or black dial and comes paired with a stainless steel bracelet or a fabric strap. It has an MSRP of MYR 4,940 or MYR 4,670 respectively.
Mido Ocean Star Chronograph
As for the chronograph, it also comes in a larger 44mm stainless-steel case but this time offers a black DLC coating to give it a more dynamic look. The chronograph complication is powered by the Automatic Mido Caliber 60 which is adjusted at three different positions for enhanced accuracy and has a power reserve of 60 hours.
Like the GMT, Mido also decided to keep the traditional minutes on the ceramic bezel and instead put the tachymeter, commonly found with chronographs on a chapter ring on the dial. Another cool thing about this GMT is the fact that they use a nautical tachymeter which calculates the speed in knots instead of the traditional miles or kilometres per hour. How it works is that the chronograph will be used to time how long it takes to travel one nautical mile, and the speed in knots will be shown on the tachymeter scale.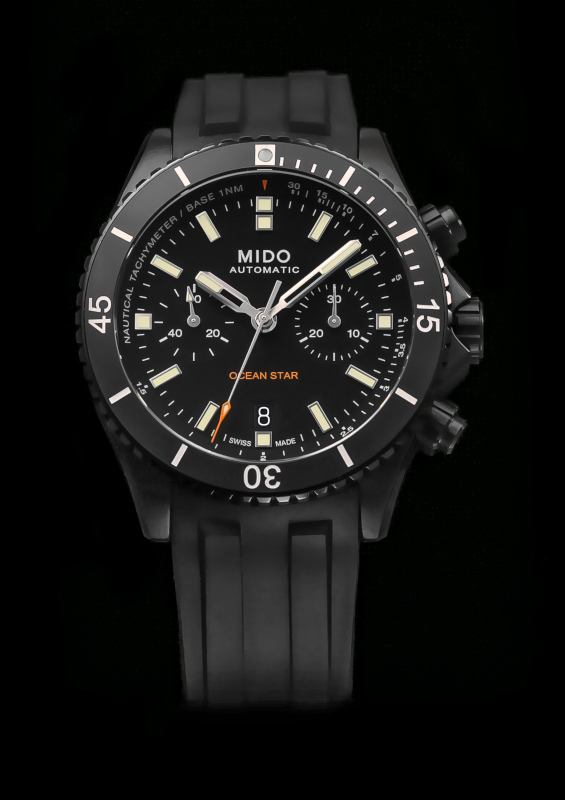 The Mido Ocean Star Chronograph in Black DLC coating is a special edition and will be presented with a black rubber strap and an additional black technical fabric strap with orange stitching. The MSRP is MYR 9,450. For those who prefer a more classic colour, the watch is also available in a titanium version with a blue dial and a matching ceramic bezel.