It's no secret that Rado is a brand that places a huge emphasis on design. The Designers collection represents a collection of watches where Rado works with contemporary designers, giving them free rein to re-interpret the design of Rado pieces. This is a brilliant idea as it offers Rado the ability to take risks with fresh and cool designs, without diluting the core DNA of the brand. The latest trio of these watches come in the form of the Rado True Square Designers, a collaboration with Formafantasma, Tej Chauhan and YOY.
True Square Formafantasma
The True Square Formafantasma has about 70% of its dial covered, a throwback to the time when historical pocket watches had a similar feature to protect the dial and movement within. The watch uses an extra shell of high-tech ceramic, with only a small sapphire crystal window in the centre. Even with the unusually small dial opening, everything you need to tell time is still clearly visible.
Rado True Square x Tej Chauhan
For British industrial designer Tej Chauhan, it was the futuristic visions of pop culture that inspired its trendy design. Everything in the watch is about contrasts. The Square is contrasted by the circles, the black contrasted by white minute and hour hands and neon red seconds hand. The blue from the 9 to 12 o'clock indices is meant to indicate the time of day when things start moving, daytime when you are in the office and at night when you are out for the evening.
Rado True Square Undigital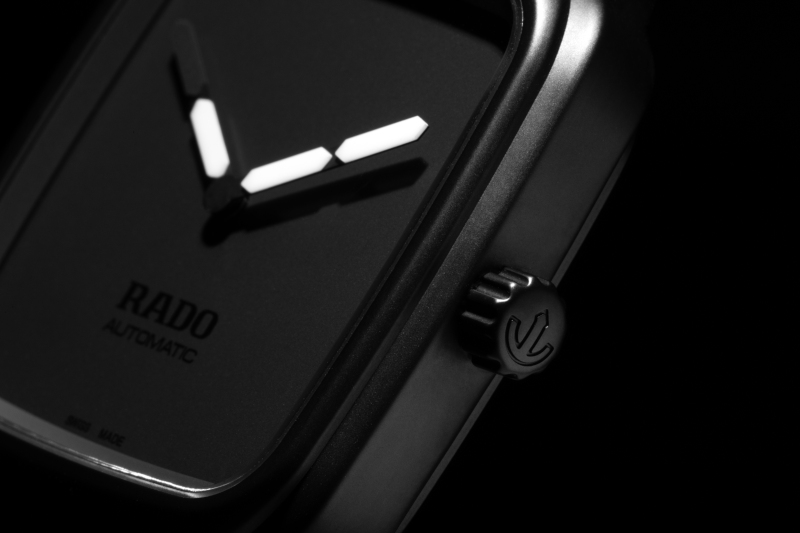 The Japanese design duo of YOY imagined this watch to appear digital, but in fact, is anything but. The hands are made in the style of the distinctive shapes of the seven-segment display—a classic feature of a digital watch and when put on top of a black dial plays its part well. However, upon closer inspection, the watch is indeed a mechanical piece, cased in Rado's signature high-tech ceramic.
**UPDATE**
True Square x Yuan Youmin
Fresh off the assembly block is a brand new collaboration piece from Rado, this time uniting east and west by collaborating with the Chinese graphic designer, lecturer and curator, Yuan Youmin. The design was inspired by the traditional chinese steelyard and more specifically the humble measuring instrument that is associated with this. The curved dial represents the weighing tray, the hands represent the lever rods and the gold was chosen as it represents the pure heart and honesty of the tradesman working with the steelyard.