If like me, you have been accustomed to the clean and often minimalist designs of Rado's high-tech ceramic watches, then the new True Thinline Anima will provide a shock to the system. In a good way of course. This new timepiece from Rado combines all the material technology you expect out of the brand but with a skeletonised dial design that is quite unlike what the collection usually offers.
Although from afar the piece looks like a skeletonised watch, it is actually only the dial that has been open-worked. When you take a closer look, you'll see that the carbon fibre outer track along with the black anodised aluminium bridges of the movement help to give the watch a nice sense of complexity. The indices are applied to the web-like structure of the dial and another cool thing to note is that the date wheel has also been skeletonised to further enhance this aesthetic choice.
The movement of the True Thinline Anima has bridges and plates made from black anodised aluminium that serves two purposes. One, to conceal the movement in plain sight on the dial, the second, is to ensure that the watch is as light as possible. The name Anima is taken from the Latin word for air, breath or soul and thus, Rado has taken the necessary steps to make the watch as light and airy as it looks.
For the 40mm case, Rado developed a brand-new colour to add to their palette – olive green – which is made with their lightweight, scratch-resistant high-tech ceramic. On the caseback, a titanium component holds a sapphire crystal so you will be able to further admire the movement and its decorated rotor, also coated in black DLC.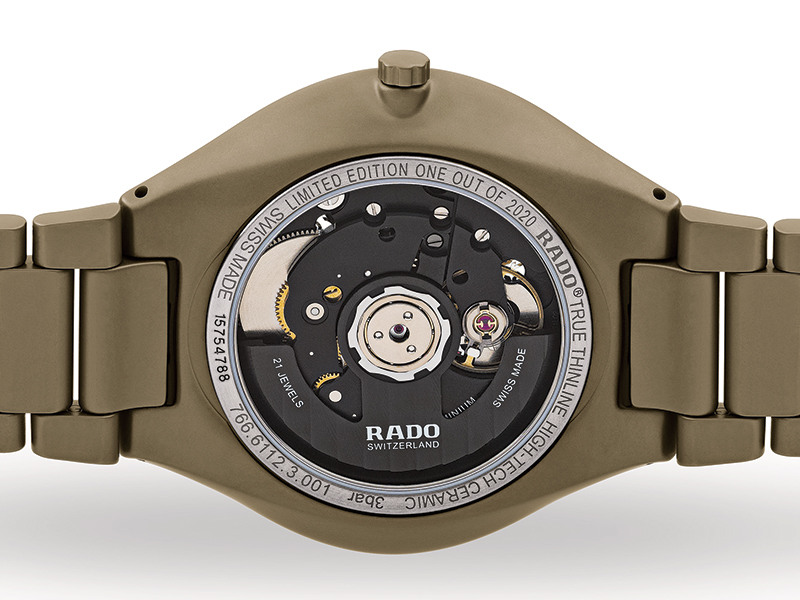 The Rado True Thinline Anima will retail for MYR 12,078 (USD 3,000) and will be limited to only 2,020 pieces worldwide.
To learn more about Rado, you can visit them at rado.com