In the beginning, the allure of Undone was that each of their watches was customisable to a certain degree depending on the preferences of the customer. However, in recent years, they have taken to doing fantastic collaboration pieces with design houses, pop-culture brands and more. And this results in unique and quirky designs that speak to both the watch enthusiast and non-enthusiast alike.
The more you delve into these collections, the more it becomes apparent that within Undone there are certainly one or several hardcore watch enthusiasts running the show. The Popeye collection offers a similar joy to Gerald Genta's Mickey Mouse watches with the actual hands of the character indicating time. And with the latest launch, the Undone Stellar, it references both the highly sought-after Rolex watches with Middle Eastern emblems on the dial and dial colours reminisce of the Rolex Stella dials. It must be more than a coincidence that this collection is called Stellar.
As Michael Young, founder of Undone explains, this collection takes its inspiration from elements found on highly sought-after vintage pieces. Back in the 1960s and 70s Middle Eastern Elites would host lavish parties for important guests and present them with luxury watches that were custom-ordered to bear their family insignia. These became highly collectable and are very much in demand in the vintage market. Needless to say, through the laws of demand and supply, the asking price for one of these are just insane. For example, through a quick search online, a vintage yellow gold Rolex Day-Date with an Oman logo was priced at more than MYR 200k.
For those of us who can't pay a king's ransom, the Undone Stellar collection is incredibly appealing. It has the insignia of a Middle Eastern "Khanjar" on the dial and comes in flamboyant Tiffany Blue, purple and yellow colours. These dials are enamel dials, that after many rounds of sanding and polishing offers a completely smooth almost liquid-like appearance.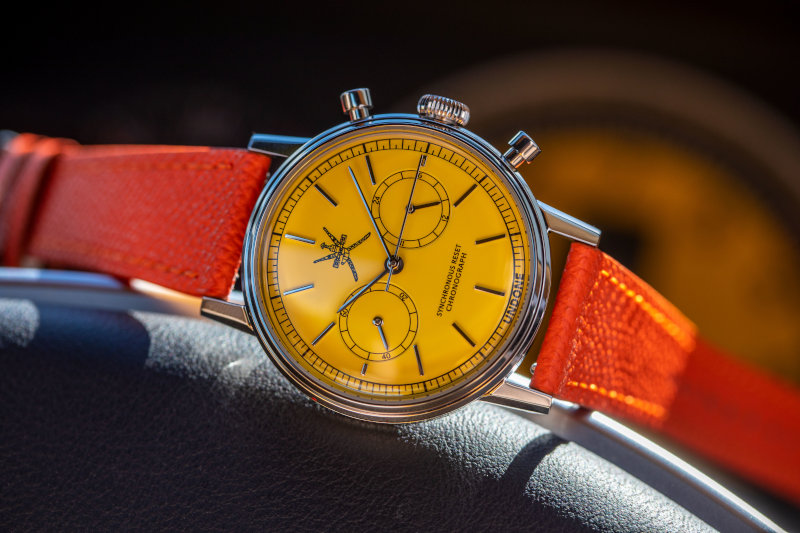 The watch is offered in the Undone Urban style case with a 40 mm diameter and offers a Japanese TMI VK64 Mechanical-Quartz Hybrid Flyback Chronograph supplied by Seiko Manufacturing (Hong Kong). Considering the asking price, and its limited availability, it is a definite and resounding YES for many watch enthusiasts. The only thing that I could see as a deterrent is the fact that it has a quartz movement and the case is slightly large at 40 mm (well, large by vintage watch standards). If it was mechanical say in the Undone Basecamp case, I would be throwing my money at them already.
The Undone Stellar collection is priced at USD 349 and limited to only 300 pieces worldwide. The last day for orders is on the 8 July so do hurry if you want to snag yourself one.