One of the reasons I am in love with the watch industry is the fact that because mechanical wristwatches are pretty much obsolete in terms of functionality, brands have to find different and often ingenious ways to make their product appeal on an emotional level. And one of the ways is to offer up a timepiece made from a unique material like carbon. The new Zenith Defy Classic Carbon takes this concept one step further by making not only their watch case from carbon but a full bracelet as well.
It is hard to imagine that material once only useful for burning as fuel, can now be used in the upper echelons of luxury products. Of course, this is not the same type of carbon as the coal mined from the ground or the charcoal made of wood but rather a high-tech material made from pressing layers of carbon fibre together. The result is a dark, matte black material that has a unique marble-like pattern on its surface. And the benefits of using carbon is that the watch is extremely light while maintaining its durability.
The concept of using carbon materials in watchmaking is not exactly new, but the novelty that Zenith brings to the table is the fact that they are one of the few manufactures able to produce a bracelet made from the same material. There is a reason why not many brands make a carbon bracelet and it is probably due to the complexity of working with such a complicated material to make something with so many components. And this shows in the price tag. As cool as this carbon bracelet is, it will cost you quite a fair bit as the watch is priced at CHF 19,900 (Approx. MYR 90,900). Just as a comparison the same watch with the rubber bracelet is priced at CHF 11,900 (Approx. MYR 54,300), pricing the bracelet at just about MYR 40,000. Insane.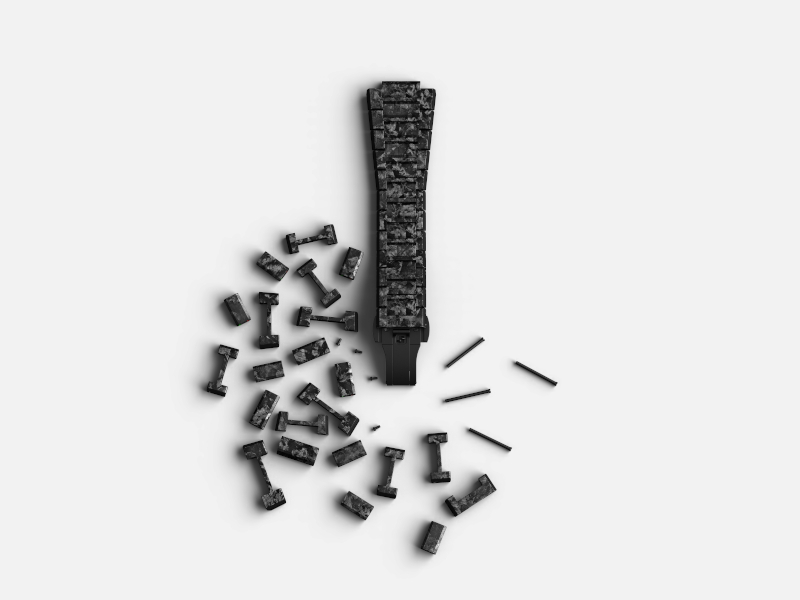 The Zenith Defy Classic Carbon weighs only 65 grams in total and has a case diameter of 41mm. The dial of the watch is also open-worked to highlight the technical aspect of the watch while the movement is an Elite 670 SK calibre with 48 hours of power reserve.