Ever since the launch of the Rolex OP with their new colourful Stella dials, many other brands have started to jump on this bandwagon as well. Whether it was because other brands started to recognise the potential of these fun dial colours or they just wanted to capitalise on the fact that certain Rolexes are Oyster perpetually "out of stock", doesn't matter because in the end, we as the consumers win.
I for one have been utterly enamoured with this style of dials. It just adds such a level of variety to any collection, which was most likely previously filled with only white, black, or the occasional navy blue colours. In 2022, there are plenty of options to satiate those hunting for these colourful dials. On one end of the spectrum, Undone has a colourful chronograph at really affordable prices, the various brands from China have plenty of homages as well, and on the other end luxury brands like Doxa, Nomos, Omega and Oris have them as well.
Today however we are looking at the middle ground in terms of price point, highlighting watches from Christopher Ward and Sinn that offer colourful dials for around USD1,000 to USD1,500 making them perfect daily watches for anyone looking to add a little spice to their (watch)life.
Christopher Ward C63 Sealander
This British brand was founded based on a quest to bring premium watches down to a more affordable price point. And for their latest limited edition, they have managed to bring the spirit of those aforementioned Rolexes to a fantastic price of around USD1,000.
The C63 Sealander is based on their existing Sealander collection but for this limited edition the case has been shrunk down to a fantastic 36mm and given four new dial colours that were inspired by Swiss topography (their watches are Swiss-made) and British flora. Lucerne Blue, New Forest Yellow, Jura Green and Acer Red are the four new colours limited to 200 pieces each.
It was a great choice to shrink the case down to 36mm. And what it lacks in size, the watch makes up with its attention-grabbing dial and Light-catcher case. The watch harks back to the times when small watches were the norm resulting, at least in my books, in a great package. To top it all off, if you're a fan of the smaller size but not the colours, there is a black or white variant for you in the same case.
As of now, the Lucerne Blue variant seems to have been sold out. However, the other three colours are still available for pre-order with the watch arriving in October or November of this year.
Sinn 556
Fans of Sinn will already know about their military-esque, no-nonsense approach to making watches. So, when a brand consisting mostly of well-built tool watches suddenly announces a collection of four coloured dials, people will take notice.
Just recently Sinn unveiled four Sinn 556 watches in Aquamarine Blue, Carnelian Red, Citrine Yellow and Emerald Green. These colours were apparently inspired by gemstones and so, with each of these watches, the coloured dial has a top layer of varnish with a metallic shimmer giving them an interesting sheen.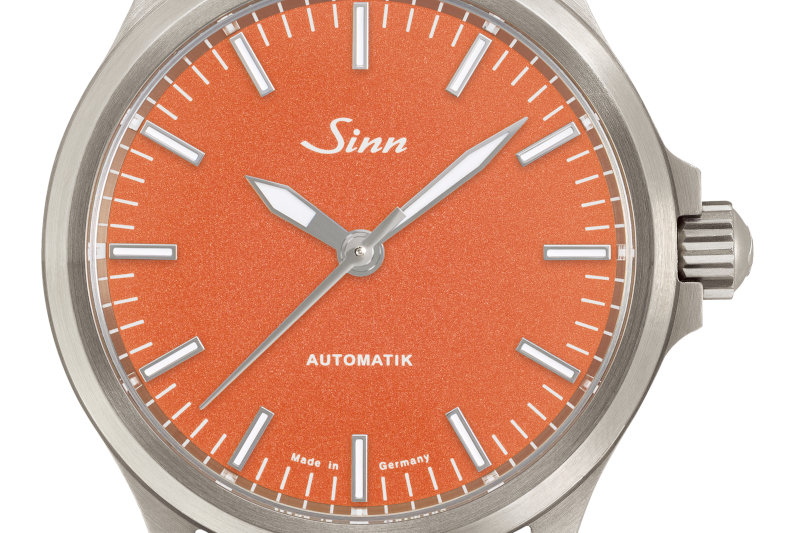 The 556 collection from Sinn consists mostly of military pilot-style designs with this particular collection being the exception. The hands have been designed slightly different to offer a bit of style over their utilitarian counterparts and have no date window giving them a clean and symmetrical look. Additionally, the watch is housed in a 38.5mm case and is paired with a grey canvas leather strap. However, because the case is the same as the other 556s in the collection you should be able to buy a compatible stainless steel bracelet with relative ease.
These watches are priced a little closer to the USD1,500 mark and are limited to only 400 pieces each. Looking at their website, it seems that Sinn doesn't have any units left for direct sales but they state that they may still be some stocked by their retail partners. If you are in Malaysia this would be a good time to pick up the phone and talk to your contact at The Hour Glass.
You may also like